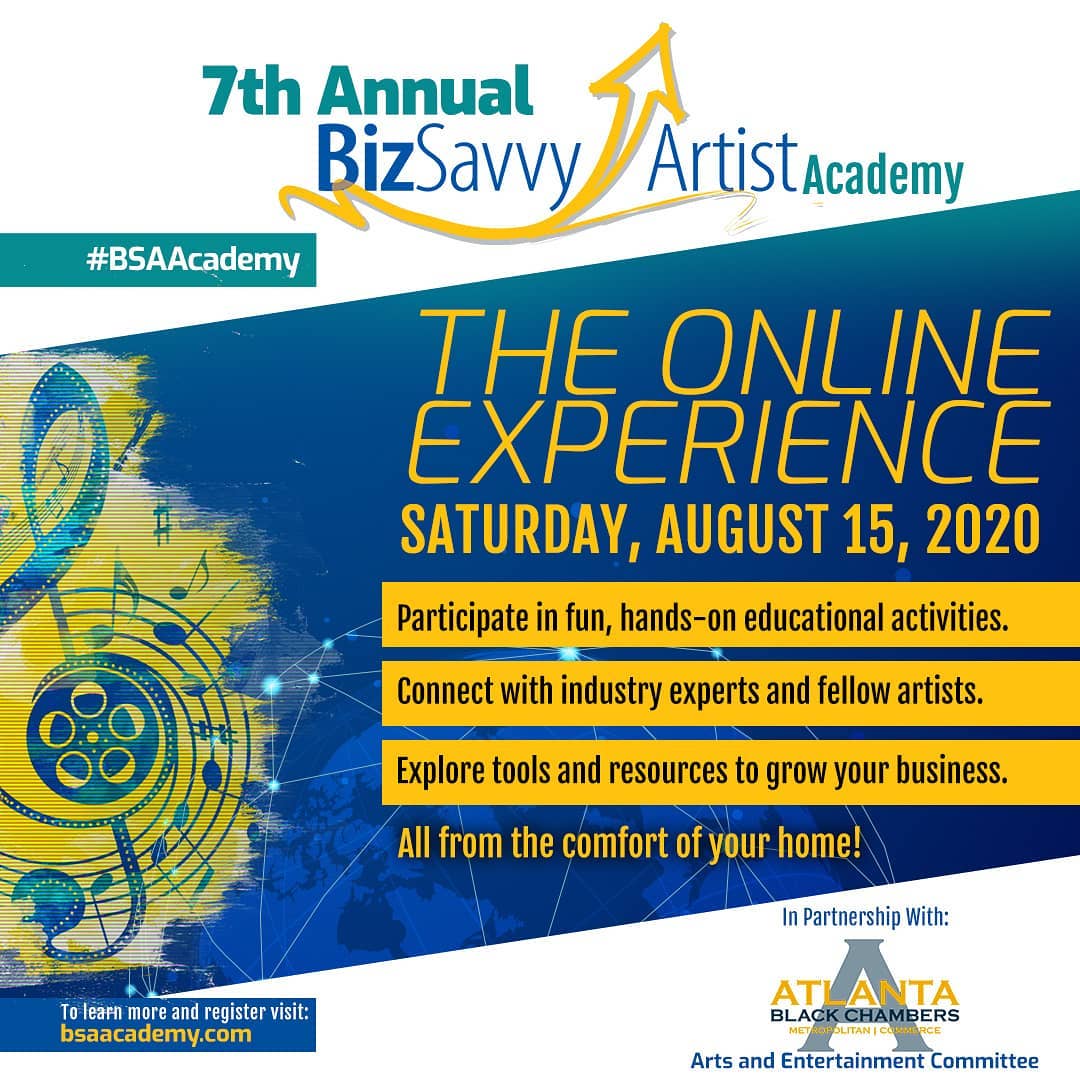 Local Time
Timezone:

America/New_York

Date: Aug 15 2020
Time:

12:00 - 18:00

Date
Aug 15 2020
Time
12:00 PM - 06:00 PM
7th Annual Biz Savvy Artist Academy
About this Event
If you're an independent artist or creative professional seeking to start or grow your business, join us on Saturday, Aug. 15th for the 7th Annual Biz Savvy Artist™ Academy presented by Biz Savvy Artist™ and the Atlanta Black Chambers Arts and Entertainment Committee.
Biz Savvy Artist™ Academy is an event designed to assist independent artists and creative professionals to become successful entrepreneurs. It will feature fun and interactive entrepreneurship workshops led by entertainment and business subject matter experts. It will also include networking opportunities, an experiential expo, and a keynote presentation – all from the comfort of your home.
3 Reasons You Should Attend Biz Savvy Artist™ Academy
#1 You Need A Game Plan
Whether, it's music, film, gaming, sports, or another entertainment related field, you're in an industry that generates billions of dollars in revenues annually.
Now is the time to learn proven ways to run your creative business, create your game plan and position yourself and your business for success.
This quote from Angela Durden about Biz Savvy Artist™ Academy sums it up best:
"I believe you covered the full scope of what topics creatives need to think about in their businesses."
#2 You're A Business, Man! (or Woman)
The job landscape is changing. According to an EMSI class-of-worker report, "proprietors account for 242,000-plus, or nearly 80%, of the jobs added since 2001 in the main entertainment and sports-related occupations. This includes workers whose main income comes from self-employment, and even more so those doing side gigs in addition to their day job".
Contract and freelance jobs are becoming the norm in the entertainment industry. Knowing your craft isn't enough anymore. To succeed, you need to understand the basics of operating as a business – from marketing to accounting.
"I wanted longevity. If that's the goal, I had to do everything I possibly could to know the business of Hollywood from top to bottom. From acting to marketing to an executive-level to a producing level to a directing level and just know it as a whole – that would inherently make me a greater asset…I had to educate myself and be a student of the game. Know your business. Know your business, become a student of the game, and surround yourself with brilliant people. And, go to work." ~Dwayne 'The Rock' Johnson
#3 Connect with AWESOME People
Let's face it, artists and entrepreneurs are often misunderstood. You are both! Biz Savvy Artist™ Academy is a great way to connect with other artists, industry experts, and successful entrepreneurs who can relate to your journey.
"To be successful, you must surround yourself with the right people." ~Tom Mendoza
If you're an indie artist or creative professional, Biz Savvy Artist™ Academy is the place to be. You'll learn practical strategies and best practices from the entertainment industry and business experts that will help you improve your business and #succeedinthebiz!